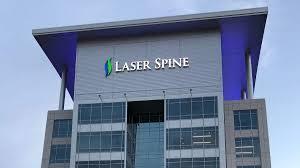 Despite officially closing in March, the Laser Spine Institute has been issued a judgment exceeding $300 million in the middle of a lawsuit that has stretched for 13 years.
Regardless of the long process that included litigation in the 13th Judicial Circuit Court Hillsborough County, attorney Jennifer Altman considers the final verdict "a total victory."
"In terms of the amount of money we sought, it of course is [a victory]," Altman said to Florida Record. "It's been 2004 since most of the allegations arose, and we're in 2019. In that sense, the fact that the process has taken a long time, that component of it is not a victory, but obviously my client is extremely happy with the ultimate result and felt that was the case dating back to 2006 when the lawsuit was filed."
In 2006, Laser Spine Institute co-founder Joe Samuel Bailey sued his other co-founders, Dr. James St. Louis and Dr. Michael Perry, for violations including fiduciary duty, defamation, slander, violation of the Florida Deceptive and Unfair Trade Practices Act, conspiracy and tortious interference. The case was not fully settled until the final ruling was announced Dec. 20, 2018.
Altman explained the reasoning behind the lawsuit's long history. With the case filed in 2006 and Altman getting involved in 2009, the case was forced to a bench trial after the judge would not allow any jury trial to last longer than two weeks. The bench trial that started in July 2010 ran throughout September 2010 but did not resume again until April 2011 and initially concluded in May 2011.
Although Altman submitted her final findings of fact proposed and conclusions on July 1, 2011, the judge did not issue his ruling until October 2012. Altman filed her first appeal for damages in February 2013, to which she did not receive any ruling until February 2016. Final hearings were commissioned throughout 2017 before the ruling for the second, and so far final, appeal was made in December 2018.
Altman said she was proud that the courts were able to determine a fair verdict in an extended period of time.
"We think the appellate courts did their job very well. It's a six-week trial, a big hefty record for them to sift through, but I think they really were able to synthesize the important and relevant facts and law in a way that was accurate and just," she said
Altman said she would ensure Bailey is awarded damages from Laser Spine Institute no matter how long it will take.
"We intend to expend every necessary resource to try and collect this judgment on behalf of our client who has waited for justice for a long time," Altman said. "We will turn over every rock, every stone in the pursuit of the collection efforts on behalf of the client, however long that takes."
Roughly 1,000 Laser Spine employees lost their jobs as a result of the lawsuit throughout its history. Altman said she hopes this hearing will send a message to business owners about the importance of honesty in the workplace.
"If anything, this final judgment vindicates people and encourages them to use innovation, to be first movers in an industry, by telling people that you're not going to get away with it if you try and go in and grab somebody else's business and innovation by nefarious means," Altman said. "Yes, it's taking him a long time and yes, it's been a lot of heartache, but I would hope folks that are out there in the marketplace, given this ruling, would not find it economically beneficial to steal what is not theirs, because there is going to be retribution, there is going to be a pay day at the end of the day.
"I would hope that this ruling would serve as a disincentive for people to behave badly in business, and an incentive for people to go out there and innovate and do so in ways that collaboration, if it's going to occur...it's by cooperation and agreement."