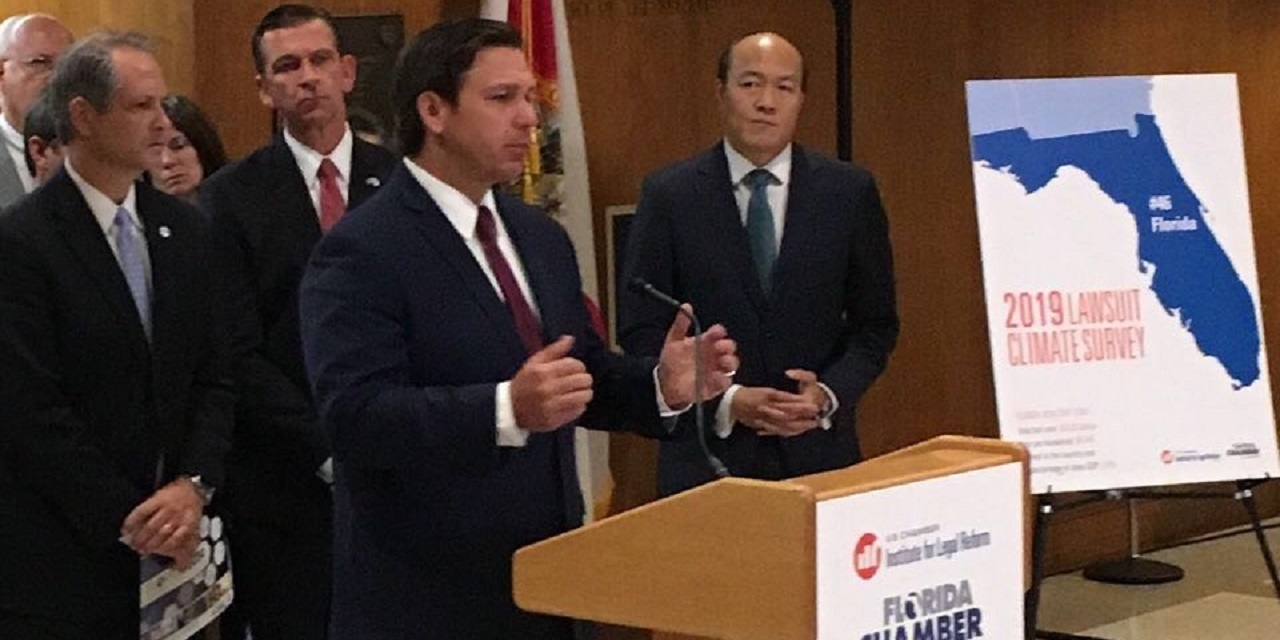 Republican Gov. Ron DeSantis, with U.S. Chamber Institute for Legal Reform COO Harold Kim to his left, during today's news conference at the Florida Capitol
TALLAHASSEE — Republican Gov. Ron DeSantis took the opportunity during release of a poll about how Florida's legal climate affects business in the state to say he's seen progress his first year in office but more works needs to be done.
Litigation in the state should be "based on the clients rather than the attorneys," DeSantis said during news conference at the Capitol earlier today.
"There are so many cases that get brought, it seems, where even if the person who gets sued is a hundred percent innocent, they look at it and say, 'OK, well to be able to defend this it's going to cost a couple hundred thousand dollars so I'm better off, as a business decision, cutting a check and having them go away'," said DeSantis "That to me is more of a lawyer driven culture than it is based on people who have actually suffered harm."
DeSantis was one of a number of public officials who spoke during the news conference. Others present included Florida Chamber of Commerce President and CEO Mark Wilson and U.S. Chamber Institute for Legal Reform COO Harold Kim.
The news conference was called to announce release of a U.S. Chamber Institute for Legal Reform commissioned Harris Poll survey, 2019 Lawsuit Climate Survey: Ranking the States, about the lawsuit environment in the U.S. The poll surveyed 1,307 attorney and business executives and, amount other things, found from Florida's legal climate remains bad for business.
Almost 90 percent of those surveyed indicated Florida's "lawsuit environment is likely to impact" their companies and impacts their decisions about where to do business.
Wilson and Kim downplayed Florida's poor showing in the survey, referring instead to improvements under DeSantis during his first year in office.
"Despite the low ranking, it's a new day for Florida's legal climate," Kim said. "Florida's low ranking reflects its past, not its future, and doesn't account for recent meaningful reforms spearheaded by Gov. DeSantis and the state legislature."
Wilson, during his comments, referred to more work that needs to be done in Florida's legal climate.
"Florida has one of the nation's top business climates, but the number one thing we must fix that's holding us back is Florida's broken, expensive and unfair legal system," Wilson said.
DeSantis said he arrived in office this past January in a legal climate in which Floridians, as well as business interests in the state, lacked confidence in Florida's judiciary.
"There was a sense that the legislature could enact certain reforms but the chance of that getting rewritten or unwound in the courts - more based on policy reasons than legal reasons - was way too high," DeSantis said.
Much has changed since January. That month, Supreme Court liberal-leaning justices Peggy Quince, Barbara Pariente and Fred Lewis left the high court after reaching mandatory retirement age and were replaced by DeSantis with conservative-leaning justices Barbara Lagoa, Robert J. Luck and Carlos Muñiz.
As of February, all seven justices on the high court were appointed by Republican governors.
DeSantis has been busy with other branches of the state's judiciary and he said he wants judges in the state to do their job.
"At the end of the day, I want judges who understand that the judicial branch is fundamentally different than the legislative branch," he said. "You're there to apply the law, you're not there to rewrite it. You're there to apply the Constitution, not to rewrite it."
In addition to changes in the judiciary, a new law aimed at ending insurance fraud through the state's assignment of benefits has happened during DeSantis' first year.
Those changes are not going unnoticed, DeSantis said during today's press conference
"I think folks are looking at Florida," DeSantis said. "If they see reforms being done politically through the legislative and the elected branches, they can be pretty sure that that's going to be applied as written and you're not going to see any type of political gymnastics being done via the judiciary. And I think that that's good."
Editor's note: The Florida Record is owned by the U.S. Chamber Institute for Legal Reform.