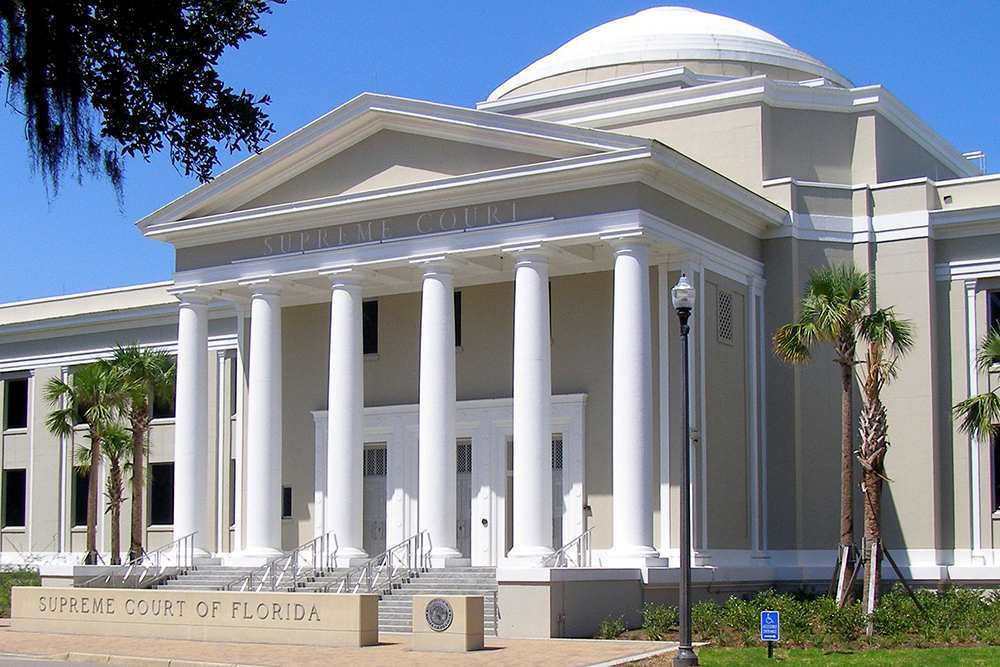 TALLAHASSEE -- The Supreme Court of Florida overturned a trial court's decision to dismiss a medical malpractice case involving the death of a young woman following the birth of her stillborn baby.
A medical malpractice lawsuit was filed after the 20-year-old woman, Shunteria S. McIntyre, died a few days after giving birth to a stillborn child. However, the case was dismissed by the trial court because the court had decided "her presuit medical expert was not 'qualified' to provide a medical expert opinion under section 766.102, Florida Statutes," according to the Supreme Court decision written by Justice Barbara Pariente.
The dispute was centered on the medical expert, Dr. Margaret M. Thompson, "who attested in a sworn affidavit that she was a board-certified obstetrician and gynecologist," Justice Pariente noted.
However, the defendants refuted her expertise as she had retired from practice in 2008 and was pursuing legal studies.
"At the deposition, Dr. Thompson testified that from 2006 through her retirement from clinical practice in March 2008, she worked more than 50 hours per week as an obstetrician-gynecologist (OB-GYN) in her office and at a hospital. However, the Defendants continued questioning Dr. Thompson as to how she could attend law school while continuing to engage in full-time patient care," the Supreme Court decision stated.
"We first conclude that, because Dr. Thompson's affidavit clearly demonstrated that she was qualified, and the Defendants did not present any evidence to refute those qualifications, the trial court should not have permitted a deposition of Dr. Thompson.
"Dr. Thompson had been an OB-GYN for over three decades. While the Defendants attempted to challenge the veracity of Dr. Thompson's assertions that she was practicing in her field of medicine while attending law school, an issue that would have been impeachment on a collateral matter, they presented no evidence demonstrating that these assertions were false. Additionally, we conclude that the trial court abused its discretion in dismissing Morris's medical malpractice action under section 766.205(2) without finding that Morris's actions prejudiced the Defendants," Justice Pariente wrote in her decision, which Justices Fred Lewis, Peggy Quince and Jorge Labarga concurred.
Yet, three other justices, namely Chief Justice Charles Canady, Justice Ricky Polston and Justice Alan Lawson disagreed.
"In this case involving a medical specialty, Dr. Thompson at the time she executed the affidavit was required to: (1) be duly and regularly engaged in the practice of the profession; and (2) '[h]ave devoted professional time during the 3 years immediately preceding the' alleged malpractice to one of the three categories of professional activities listed in section 766.102(5)(a)2.—under the facts presented here, to '[t]he active clinical practice of" OB/GYN. 8 Nothing in Dr. Thompson's affidavit or in the rest of the record supports the conclusion that she was 'duly and regularly engaged' in the practice of the profession at the time she executed the affidavit in 2011," Chief Justice Charles Canady wrote in his discention.
"Although the plaintiff's purported presuit 'medical expert'—Dr. Thompson—appears to have enjoyed a lengthy career as an OB/GYN, she did not meet the statutory qualifications for a medical expert,' given that she was not 'duly and regularly engaged' in the practice of the profession at the time she executed the presuit affidavit," he added.