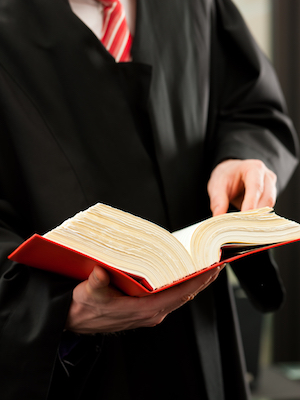 TITUSVILLE – A judge with the Brevard County court was removed from office following a decision by the Florida Supreme Court in December.
A Judicial Qualification Commission (JQC) found "clear and convincing" evidence that judge John C. Murphy physically threatened a public defender during a hearing June 2, 2014. Afterward, complaints to the JQC alleged there was a fight between Murphy and the attorney, Andrew Weinstock, in which the judge punched him twice in the face.
Video reviewed by the Supreme Court showed that during hearing in which Murphy, after Weinstock refused to waive his client's right to a speedy trial, threatened to throw a rock at the attorney. When Weinstock refused to sit down, the judge demanded he sit down and threatened him again.
"If you want to fight, let's go out back and I'll just beat your [expletive]," Murphy was seen saying in the video.
Video did not capture what occurred once the two exited the chambers, but audio was captured that suggested a scuffle, according to the ruling. A court bailiff testified that he had to separate the two, but could not confirm whether there was actual fighting, and said there would not have been time for either man to hit the other without him seeing.
According to the complaint, Murphy returned to the courtroom and heard eight cases without the attorney present. In one case, a man facing a charge of driving under the influence was asked what he wanted to do by the judge, to which the man said he had "no idea what to do in this situation."
"I haven't had a chance to speak to my public defender," the man said according to the complaint. "And, now, I don't have a public defender."
In his defense, Murphy argued that Weinstock had a history of poorly representing his clients, telling the JQC that the attorney repeatedly refused to make announcements to the court regarding his clients.
After the JQC hearing, Murphy also asked the panel to consider his diagnosis of post-traumatic stress order (PTSD), which he claimed came from an Army deployment to Afghanistan and for which he currently received 30 percent disability status from the U.S. Department of Veterans Affairs, as part of the conditions that led to his outburst. The JQC only further noted that, though the information came late, a PTSD diagnosis only further showed the judge was unfit to serve in his current capacity.
Bar association records show that Murphy had been a member of the U.S. Army reserves since 1979.