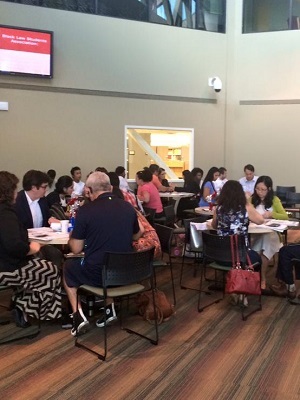 Photo from Citizenship Day 2015 | Courtesy of JBA Pro Bono Committee Chair Kathy Para
JACKSONVILLE – With only a few weeks to go, Florida Coastal School of Law's Citizenship Day is expected to be well-staffed with pro bono attorneys but there's room for more, a Jacksonville Bar Association committee chair said.
"We have 35 attorneys who have committed to serving on April 9," Kathy Para, JBA Pro Bono Committee chair, told the Florida Record. "We're well-staffed for the event. Historically, we've had 30 to 40 attorneys participating prepared to serve 80 to 100 applicants."
Citizenship Day is an annual free community legal service event offered to the immigrant community. The event is designed to assist immigrants who wish to apply for U.S. citizenship. Attorneys and law students also will assist permanent residents with complete N-400 naturalization applications.
Participating attorneys also will conduct final document reviews and ensure all applicants are eligible to apply for citizenship. For those who may need it, participating attorneys also will provide information about the potential risks of filing a citizenship application. Once a participating attorney determines an application is ready to be submitted, a Florida Coastal Law student will submit the application.
The event is hosted by Florida Coastal School of Law on its campus off Baymeadows Road and is supported by the Jacksonville Bar Association's Law Day Committee, Jacksonville Area Legal Aid and the American Immigration Lawyers Association.
Northeast Florida, including the greater Jacksonville area, has a notably large and growing immigrant population, according to U.S. Census figures. The area is home to residents originally from Eastern European countries, as well as other nations, including Vietnam, Liberia, Cuba, Mexico, Sudan, Iran, Afghanistan, Ethiopia, Eritrea, Burma, Nigeria and Nicaragua.
Florida is home to one of the largest immigrant and refugee populations in the United States, according to a report compiled by the Women's Giving Alliance.
"While the exact number of immigrants (including documented and undocumented immigrants) is difficult to pinpoint, the Pew Research Center reports 19.5 percent of Florida residents are foreign-born," the report states.
"Foreign-born persons represent from 1 percent to 9.5 percent of those living in Northeast Florida counties. Refugees are persons who legally enter the country due to conflicts in their home countries. Duval County is host to a significant refugee population, in part because of the long-standing work of Lutheran Social Services and Catholic Charities in effective outreach and procurement of housing, employment and other resources."
Though the immigrant population in the Jacksonville area seems to be growing, the need for pro bono services to help members of the community who want to achieve citizenship has remained steady, Para said.
"The need is about the same as it was last year," she said.
Scheduled hours for the event this year are 9:30 a.m. to 3:30 p.m. Pro bono attorneys can sign up to staff the morning shift, 9:30 a.m. to 12:30 p.m., and/or the afternoon shift, 12:30-3:30 p.m.
It's helpful if participating pro bono attorneys have immigration expertise but it is not required, Para said.
A three-hour naturalization webinar for attorneys who do not practice immigration law will be available via email for viewing prior to the event.
Any attorney interested in participating in Citizenship Day 2016 may email Para at kathy.para@jaxlegalaid.org