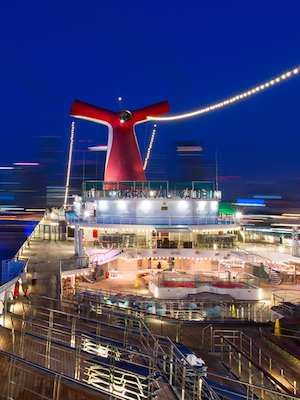 MIAMI — A Nevada woman is suing Carnival Corp. for injuries she alleged suffered aboard the cruise ship Carnival Breeze last year.
Virginia Marasigan filed a lawsuit Jan. 8 in U.S. District Court for the Miami Division of the Southern District of Florida against Carnival Corp., alleging negligence.
According to the complaint, Marasigan was aboard the Carnival Breeze on May 6, 2015 when she slipped and fell on a slippery floor near the Lido Deck's buffet. Marasigan claims the defendant had a duty to avoid slippery floors or else warn passengers of the potential hazard. As a result of her injuries, the suit says Marasigan suffered physical pain and aggravation of pre-existing conditions, incurred medical expenses, and experienced an impaired ability to work.
The plaintiff seeks a jury trial and punitive and compensatory damages, as well as reimbursement of the costs of the cruise. She is represented by attorney Michael A. Winklelman and Jacqueline Garcell of Lipcon, Margulies, Alsina & Winkleman P.A. in Miami.
U.S. District Court for the Southern District of Florida Miami Division Case number 1:16-cv-20125