LAKELAND – Florida's 2nd District Court of Appeal has ruled that a woman can't sue the Florida Orthopaedic Institute and a doctor for allegedly performing an unneeded surgery because she didn't provide expert affidavits from a qualified medical professional.
In its decision, the court agreed to grant Dr. Michael Clare's and Florida Orthopaedic Institute's (FOI) petition for writ of certiorari to reverse a lower court ruling that reinstated the lawsuit.
Maria Johnson Lynch went to FOI after she broke her toe and underwent a variety of treatments, including surgery, all of which failed to fully resolve the issue, according to court records. Lynch then sought a second opinion, during which she was told that the surgery performed by Clare was unnecessary and not indicated for injuries such as hers.
Lynch then filed a complaint against FOI alleging malpractice. As part of her complaint, she included a written affidavit of Dr. Benjamin Overley, who is a board-certified podiatrist.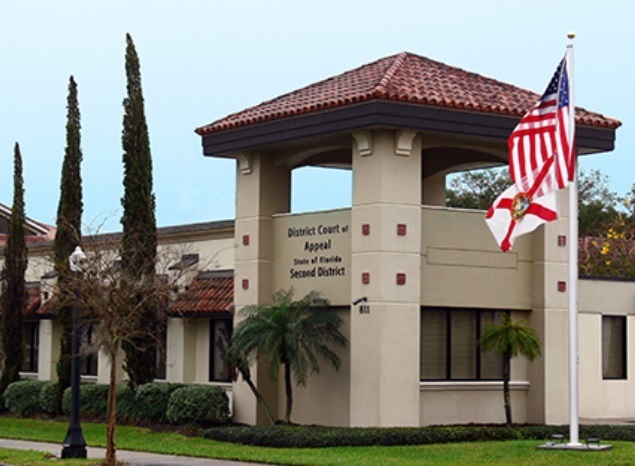 The Second District Court of Appeal in Lakeland, Fla.
FOI challenged this affidavit, claiming that it did not qualify as a proper corroborating affidavit because Clare is a board-certified orthopedic surgeon, not a podiatrist.
Lynch did not respond to this objection during the pre-suit period, court records show. At the end of that period, FOI denied it was liable, and Lynch filed suit.
FOI then sought to have the lawsuit dismissed, maintaining that Lynch didn't properly comply with the pre-suit investigation requirements when she did not submit an expert affidavit that complied with the statutory requirements for such a suit.
Initially, the trial court had agreed to dismiss the complaint. However, on rehearing, it shifted course, granted rehearing and reinstated the complaint.
FOI then filed a petition for writ of certiorari.
Writing the opinion, Chief Judge Craig C. Villanti noted that "under the plain language of the applicable statutes, if the intended medical defendant is a specialist, the corroborating affidavit must come from a provider who specializes in the same specialty," according to court documents.
Villanti added that there is no dispute that Clare is a board-certified orthopedic surgeon. Further, there is no dispute that Overley is a board-certified podiatrist.
"While both doctors' practices focus primarily on foot and ankle surgery, these two doctors have different training and practice in different specialties," he wrote. "Therefore, the affidavit from Dr. Overley could not meet the requirements of the plain language of section 766.102(5), and the noncomplying affidavit was insufficient on its face to constitute the required corroboration of reasonable grounds to initiate medical negligence litigation."
Without such corroboration, Villanti wrote that Lynch's medical malpractice action should have been dismissed.
In her petition, as she did in the trial court, Lynch maintained that Clare and Overley do practice in the same specialty because they both perform surgery on feet and ankles.
"She argues that their different training and different titles should not matter," Villanti wrote. "However, this argument is based on nothing more than Lynch's opinion, which cannot supplant the legislative intent evidenced by the amendments made by the legislature to section 766.102 in 2013."