TALLAHASSEE – A joint House and Senate initiative to make judicial term limits part of Florida's constitution seems to have quietly died, but it was the wrong approach and a counter proposal won't be made, a Florida Bar Association chairman recently said.
"Regarding a 'counter proposal,' no, there is not one," Christopher Carlyle, chairman of the Florida Bar Appellate Practice Section, said in an email interview with the Florida Record. "The current system has a strong vetting process for appellate judges through the Judicial Nominating Commissions, and judges are subject to scrutiny by the Judicial Qualifications Commissions. They are subject to a merit retention vote every six years, and they must retire when they turn 70. The present system ensures accountability, and imposing term limits to remove experienced, qualified judges who have spent years gaining wisdom makes no sense."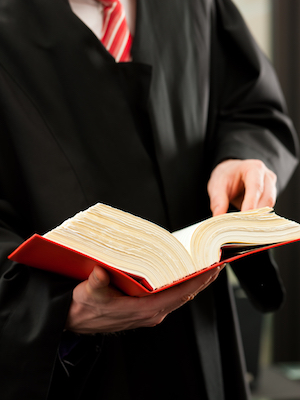 Carlyle also said he was speaking for himself and not as chairman of the Florida Bar Appellate Practice Section.
The idea to add judicial term limits to the Florida Constitution was proposed in September in a joint resolution filed by state Sen. Travis Hutson (R-Elkton), who sponsored SB 322; and state Rep. John Wood (R-Winter Haven), who sponsored the House companion HB 197.
The joint proposal would have amended Florida's state constitution to limit the state's Supreme Court justices and appellate judges to 12 years on the bench. As the first formal initiative supported by House Speaker-Designate Richard Corcoran, the amendment also would have limited district court of appeal judges and state Supreme Court justices to 12 years on the bench, or two six-year terms.
Hutson and Wood spent the previous summer working out the language of the joint resolution.
"We decided it was unfair to place term limits on two branches of government and not on the third," Hutson was quoted in September.
Under Florida's current and not-changing-anytime-soon system, appellate judges and justices serve six-year terms by governor appointment and then stand for yes-or-no "merit retention" elections there after. Those merit retention elections were first instituted in the mid-1970s. No Florida judge has since lost a retention election. That means appellate judges can serve a virtually unlimited number of six-year terms until mandatory retirement at age 70.
Had the proposal passed both chambers, a constitutional amendment would have been placed on the ballot in the next election that would have required approval by 60 percent of voters.
The Senate and House bills faced tough opposition, however, especially from the state's attorneys.
The Florida Bar opposes judicial term limits at all levels of Florida's court system. The Bar's Executive Council of the Appellate Practice Section was unanimous in its opposition. The Bar's Young Lawyers Division, and the Business Law and Trial Lawyers sections also are opposed to judicial term limits.
The resolutions also couldn't get past Florida politics. House Democrats claimed the resolution manifested from Republican displeasure with the state Supreme Court's perceived liberal interpretations by most of its justices. Republicans objected court-ordered redrawing of the state's congressional districts because they had been unconstitutionally gerrymandered to favor GOP candidates. Getting a required majority in either house was going to be difficult.
Still, the proposal clung to life. HB 197 came up for a House vote on Feb. 24 and was approved by a 76-38 vote, barely the three-fifths, or 72 votes, required for passage. Meanwhile, the companion measure stalled in the Senate, where it was assigned to three committees of reference, Judiciary, Ethics & Elections, and Rules.
SB 322 officially died in the Judiciary Committee on March 11.
That probably was for the best, according to Carlyle. Looking back over eight months of legislative activity for judicial term limits in Florida, it's difficult to find any lessons, Carlyle said.
"I have no idea what lessons can be learned from the proposal to impose term limits," he said. "No other state has them - indeed, voters in three states have specifically rejected them - and it seems to me to be an unnecessary gamble to make Florida the laboratory for this judicial experiment. If the motivation is accountability, I suggest we already have that. If it is to bring 'new blood' to the court system, I would suggest that our courts function better when judges are experienced and new judges have the benefit of learning from seasoned judges."