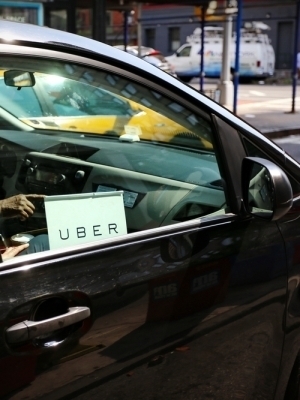 GAINESVILLE – Gainesville company Uber Promotions won an injunction against the rideshare company Uber Technologies Inc., limiting the use of its brand name until judgment is rendered in a trademark infringement suit between the two companies.
It is rare that a judge will grant such an injunction this early in a case, attorneys for Uber Promotions told the Florida Record.
"The preliminary injunction motion evaluates whether the plaintiffs have a likelihood that they will prevail at trail," Alexander Brown of Concept Law Group, said.
The plaintiff, Uber Promotions, has been operating in Gainesville since 2006. They offer transportation, photography and other services in the area. When the company heard of the existence of Uber Technologies, founded in 2009, it sent a cease and desist letter to the new company.
"At that time they were very small, only in California. They almost couldn't have been farther away," Scott Smiley, also of Concept Law, said.
Since then, Uber Technologies has grown and expanded into hundreds of cities across the globe, including Gainesville. In 2015, they launched a new service, UberEVENTS, which allows event organizers to prepay for transportation for their guests.
The services and names are so similar that Uber Promotions started legal action to protect its business in the area.
District Judge Mark E. Walker granted in part the motion to enjoin Uber from using the Uber trademark or any of its variations in the Gainesville market, which was defined as encompassing all of Alachua County.
Uber Promotions had sought to prevent Uber Technologies from using its trademark in connection with any service in the Gainesville area, but Walker granted a more limited injunction that prevented the defendant from using its markets in connection with its UberEvents service, and limited the risk of potential clients looking for Uber Promotions' contact information and finding Uber Tech's instead.
Potential clients were known to have confused the two companies, calling one when they meant to call the other.
"Customers don't know which company is which," Smiley said. "It's really created an impossible situation because the names are the same."
For now, Uber Technologies is barred from advertising UberEVENTS services in Alachula County or on Facebook with Alachua County as its principal place of business. Uber Technologies must also discontinue any bookings filed through the UberEVENTS Web page in Alachua County.
Uber Technologies was ordered to set up a phone number using a 352 area code and to ensure that said phone number is clearly associated with them and not with the plaintiff. The defendant was also ordered to adjust its marketing to ensure that online searches for "Uber promotions Gainesville phone" does not return Uber Technologies contact information.
The plaintiff placed a $10,000 security bond. If further litigation finds the injunction to be unfounded, the bond amount will be used to compensate the defendant.
"The judge is only allowed to grant an injunction as to matters where the court thinks that we have a very strong case," Michael Santucci of Santucci Priore said. "We believe that at trail the ultimate decision will result in a ruling that's much broader."
Currently, the injunction covers only Alachua County. Uber Promotions' attorneys hope that a trial will result in a new injunction that applies to the entire state of Florida.
"The plaintiff is not trying to stop the defendant from doing business in the state of Florida," Smiley said. "They're just trying to stop them from using their name."